Service, not products.
Rather than create cookie-cutter products, we have built up a diverse set of skills and capabilities.  These are combined to provide tailored solutions for each customer.  View the portfolio to see how we resolved various projects.
Churches
Sanctuary Furniture

Pews

Planning

Repair and Refurbish

Paintings

Cabinetry

Signage
Commercial
Cabinetry

Displays

Environmental

Coordinating Installs

Dimensions and Details

Contacts
Retail counters, reception desks, bar fronts and more.  Customize storage and seating arrangements.
Glass front cases for product display, artwork or artifacts.  Decorative veneer work provides elegance and tempered glass will be used to meet codes as necessary.
Going for LEEDS or some other special certification?  Let us know your requirements and we can specify products to meet them.  Formaldehyde-free conversion varnish is available.
We will communicate with your existing contractors to time install dates.  Some projects require installs to be done in sections over a longer time frame and we are experienced at this.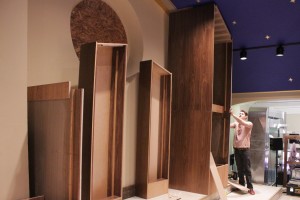 3D renderings and detailed drawings ensure your team and your contractors understand exactly where everything will be placed.  If our drawings indicate there will be a 4″ diameter hole for a drain pipe 107″ from the west wall and 16″ from the north wall, that hole will be precisely there.  Avoid surprises.
Established customers will be given a direct email and cell number to contact.  No indirect communication as you will always speak with a person that has the answers to your questions.
Resellers
Product Design

Prototyping

CNC Manufacturing

Laser Engraving

Small Batches

Confidentiality
Have a product idea you need to launch?  Hire a designer that can do more than just the facade, but also plans for production.  This speeds up the process of getting goods from concept to market.  We know our way around design software and a productive woodshop environment.
Not all facilities can do a one-off of a product but we can.  Evaluate your products, send them through testing programs and obtain customer feedback before committing to launch.
Perfect for projects requiring thin pieces of wood or plastic.  We'll also burn your logos into your products.
Rather than fill giant orders, we prefer a lean format and will ship smaller volumes at shorter intervals.  No need to invest in a year's inventory when you can schedule smaller batches on a monthly basis.
We will not sell your designs.  If your products are proprietary, rest assured you won't suddenly find your competitors selling the same products.  That is one good reason to work with a US supplier instead of sourcing overseas.
Specialty Trades
Part Reproduction

Custom Supply

Compatible File Types

Tolerances

Shipping
Have old wood parts that ceased to be manufactured decades ago?  We can make new replacement parts and have done much work for mechanical pianos and band organs.
If you are doing a lot of repeat work and have parts that take forever to make it is cutting into your profits.  Consider letting us become your supplier.  We develop efficient production techniques then supply our customers on demand.
Communication is key when sourcing parts for your projects so we've made sure we can accept a wide variety of file types.  Whether your drawings are done by hand or on a computer, we've got the means to convert them for our use.  Unlike most companies, we try to be compatible with more than just the industry standards.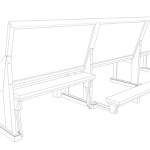 Many of the smaller businesses we work with do not have expensive software so we also have open source programs installed on our computers.  This includes Sketchup, Scribus and Gimp.  PDF, AI, DXF, DWG, SKP, STL, CRV, EPS and SLA are just some of the files we can work with.
Only have hand drawings?  Snap a clear photograph send that to us.  We can work from there.
Some mechanical parts require tight tolerance.  Specifying this will raise costs but if it's something needed, we can do it.  Some of our more intricate projects required plus or minus .005″ which is very tight in the world of woodworking.
Being located next to the Post Office means we can ship quickly and economically via USPS priority.  This is our standard carrier though we can ship through other channels upon request.  Shipping is billed to the client at cost.
Residential
Custom Cabinets

Custom Furniture

Stripping and Refinishing

Delivery and Install
We focus on projects that require special features or decorations.  Radius work, built-ins, veneering or special organizational challenges are where we shine.
Heirloom quality furniture.  If you are planning to pass it on to the succeeding generation or want something worthy of a museum, give us a call.  We design from scratch or start with an idea the client provides.
We are setup to efficiently remove old finish and have the know-how to bring old pieces back to life.  Our overflow stripping system is easy on furniture and eliminates harsh sanding or veneer lifting caused by dip tanks or water.
Anywhere in the lower 48 states though of course, costs go up as distance increases.  But we will travel or ship to California without hesitation.