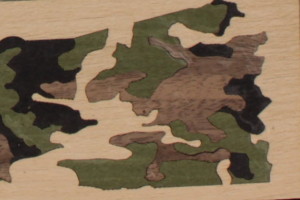 A combination of walnut, maple and dyed veneers to recreate this classic camo pattern.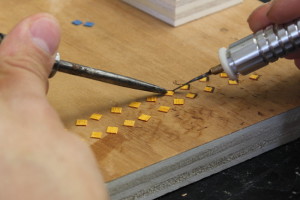 Traditionally, shading is done with hot sand.  For these tiny pieces, more precision was necessary so the artisan used a fine, wood-burning tool.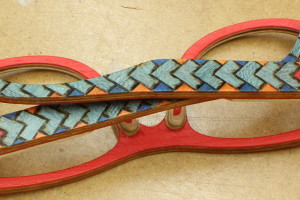 These eyewear frames achieved honorable mention in the illustrious, 2014 Veneer Tech competition.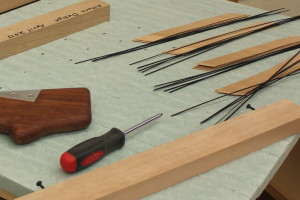 Slices of veneer prepped for a missal stand.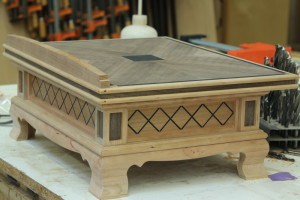 Decorative veneer is a major part of this missal stand design.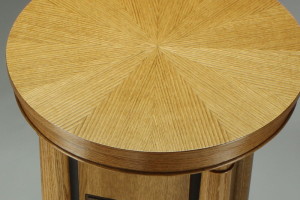 Radial match top on the pedestal that took honorable mention at the Design Portfolio competition in Chicago.
This isn't your average veneered furniture.  The cost will make solid wood furniture look budget in comparison.
Incorporating decorative veneer patterns into the design is a historically-proven way to add value to furniture.  Why should every flat surface be plain oak?  There are endless wood species to choose from and endless ways to arrange them.
We strive to make extraordinary pieces of woodwork that are both functional and beautiful.  For us, the old saying "form follows function" doesn't influence us.  We give equal importance to form and function.
After all, what good does it do to make something durable enough to last generations if people feel no excitement upon viewing it?  Posterity needs motivation to preserve these pieces and hand them down to succeeding generations.
Let our artisans guide you through the myriad possibilities.
Delving into the array of options out there can be intimidating so we take that responsibility upon ourselves.  We learn every possible veneering technique and keep sample books on hand for most available wood species.
Domestic and exotic veneers
Marquetry
Parquetry
Radial matching
Book matching
Metal and stone inlay
Plus many more…
Ready to discuss your project?
Please feel free to contact us.  You will always reach someone with the expertise and knowledge to answer your questions.
call
1-877-517-4568
or email
info@altaredesign.com