Building a new church? Replacing furnishings that were destroyed in the 70's by an iconoclastic renovation?  Fed up with a sanctuary that looks like it was lifted out of a ready-to-assemble catalog?  Missing the altar rail and can't find someone to match it to the original architecture?
Our specialty is designing and crafting furnishings for the Catholic sanctuary.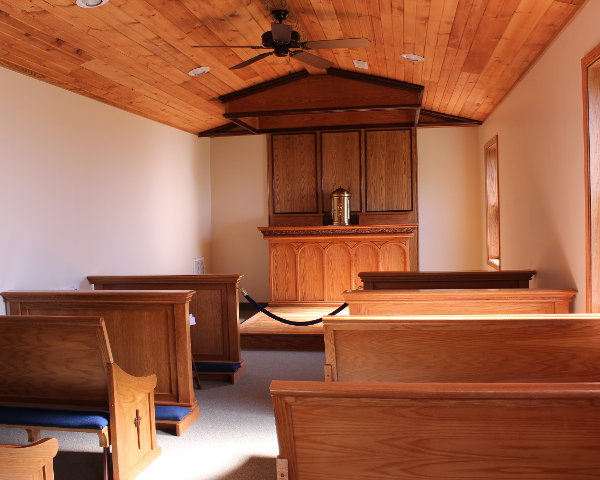 Whether matching new furnishings to an existing architectural style or starting from a blank slate, we have the capability to design furnishings specifically suited for the Mass or other liturgical usage.
With attention to tradition in design and architecture, plus adherence to orthodox theology and symbolism, we have something to offer that conventional wood shops cannot supply.
 We are located in south Chicagoland near Kankakee, Illinois.  Besides the Chicago area, we also provide full install and delivery services anywhere in the 48 states and will ship product to all 50 states.
In his book
Ugly as Sin
, Michael Rose discussed the three laws of church architecture: verticality, permanence and iconography. While much of what the book deals with is directly related to architecture – and thus the actual church structure – the furnishings in the sanctuary must still be built to conform to the same principles.
[Link to full article]
High Altar
 The central focus of the Catholic sanctuary is the high altar.  Historically, most high altars had significant ornamentation even in small, rural churches.  Simpler, free-standing altars often had an ornate baldachin which is similar to the canopy on the photo, but supported by four pillars.

Attention! Do not ask us to build a tabernacle on a tiny budget. We will specify the best materials we can find and up the level of detail and craftsmanship and that is not going to be inexpensive.
Altar and Communion Rails
 These are usually built to match the altar which means many are built from stone.  If the altar is built from wood as was the case here, a wooden rail is perfectly suitable.  The project to the left was installed in a tiny oratory and there was insufficient room for swinging gates but for larger sanctuaries, gates are preferred.  Unfortunately, the pastor at one parish in Bloomington, Illinois was transferred before he could approve the contract for the design to the right.
Missal Stand
 Functional, highly decorative, custom options and competitively priced when compared to offerings from mainstream, church goods suppliers.  Take a look around the internet and notice that the options are either affordable and spartan (not really great for use on an altar) or ornate and over a $1,000.   Our offerings start at $500 depending upon options selected.
Statue Pedestal
Every church should have statues or some sort of iconography.  With the exception of those placed on side altars, most are placed upon free-standing or wall-mounted pedestals.
Pews
Of course we must offer a line of church seating and pews are the most practical option for most projects.  Our special parallel action kneelers are designed to provide as much foot clearance as possible for people kneeling in front.  This makes them an excellent choice for small spaces that require 36″ spacing between pew rows
Like everything else we offer, everything is customizable and if this design is not what your church needs, we can create a new one.
---
Something we can do to help you?
Please feel free to contact us.  You will always reach someone with the expertise and knowledge to answer your questions.
call
1-877-517-4568
or email
info@altaredesign.com