It took awhile but Altare Design, LLC is finally a full-time business venture. The legal documents were finalized this month and suitable shop space will be leased next week. We currently have a couple projects to work on and are pursuing several promising leads. I will soon post pictures of the concepts we are currently developing for the potential clients.
By way of introduction, the company was established by myself and Austin Glidewell for the purpose of providing church furnishings done in traditional styles. This is something I have wanted to do since starting my training as a furniture-maker. Ten years later, a combination of Providence, experience, a little capital and a growing market for such furnishings have made the idea a reality.
A particular mission of mine is to play a small role in replacing the altar rails that were removed from churches over the past 50 years.  Recently, an article was written by one Paul Kokoski which contains an excerpt that mirrors my thoughts on the matter.
"The removal of communion rails caused great pain for many in the Church. It disoriented many people, who with real justification – especially in light of the recent and overwhelming loss of faith in the Eucharist as the Real Presence – feared that the very heart of Catholic belief had been compromised…  …From an authentically Catholic standpoint the ancient architectural feature should return for the greater salvation of souls."  Click to view the whole article
Though I cannot arrange words in the eloquent manner of Mr. Kokoski, I can design and build altar rails.  The rendering below shows the first design created by myself and Austin.  The potential client expressed his approval of the design.  If all goes well in the funding stage, we hope to build this one in the spring of the coming year.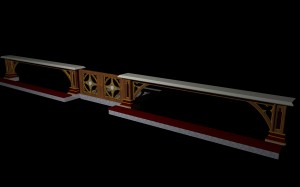 I will keep readers informed about the growth of Altare Design and the projects we undertake.