The year got off to a quick start with a large project.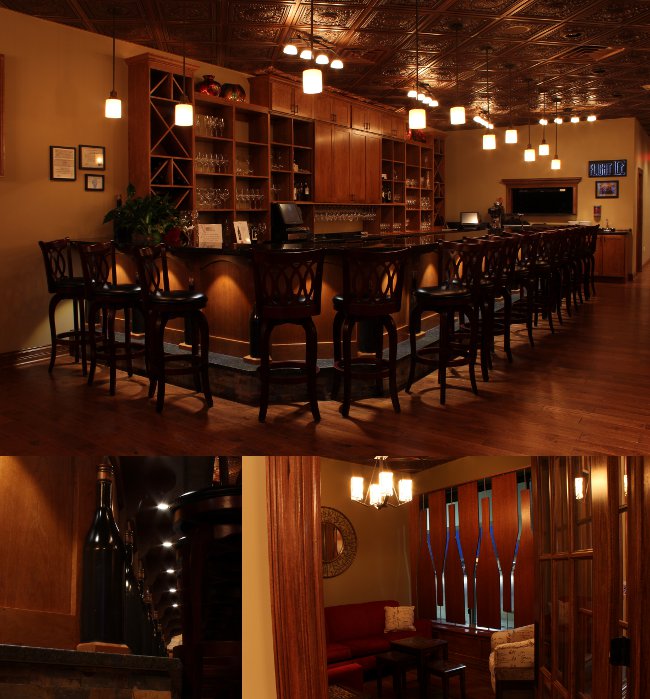 Flight 102 Wine bar of Bourbonnais, IL became the first establishment of the year to receive our furnishings but they weren't our first customers.  We were contracted by the firm Remmert Studios –  the company responsible for project design.
After many late nights in the shop and onsite doing the install, we wrapped up this one just about the end of February.  The owners were wanting to open as soon as possible and we managed to get this installed as early as possible considering the presence of other contractors doing electrical, flooring and trim.
Moving back into the realm of religious work, the prize for the first customer to directly purchase our work goes to Notre Dame de La Salette Boys Academy who purchased…
…a finely crafted missal stand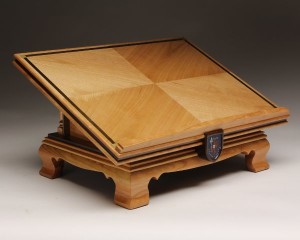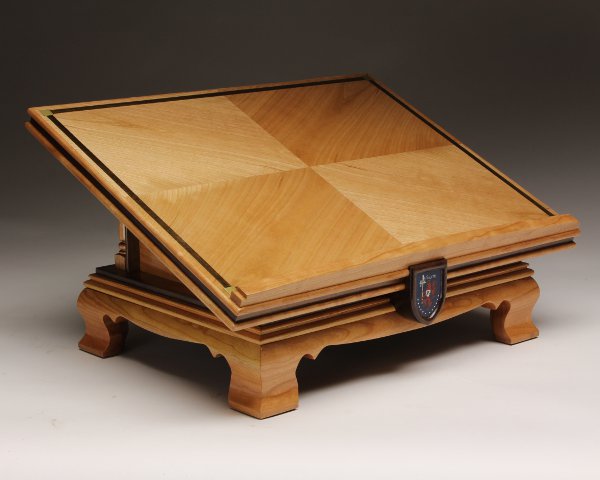 Seeing that this one has been on our site for some time, a small picture should suffice.
By the end of April, we completed a small project according to specs provided by the client.
A pair of rolling carts with removable palm boxes on the side.  Palm as in Palm Sunday.
Which was shortly followed by…
…another finely crafted missal stand.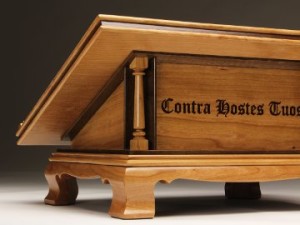 An exact duplicate of the previous one.  The customer seemed to be pleased with the design and that's always a good sign.
One thing leads to another and soon a new customer wants a missal stand of different design.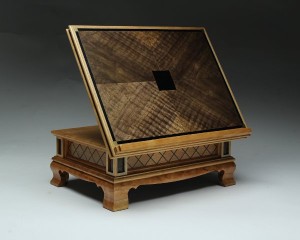 This time we worked from a loose description of how the customer wanted it to look.
Moving into and all the way through May, we kept busy making ourselves something for a change.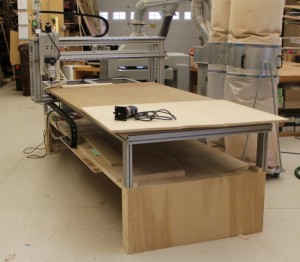 Enter the CNC.  It is now the perfect employee.  Works late, doesn't drink coffee and it obeys every command given with promptitude and exactitude minus the attitude.
It even obeys when told to ram a cutter spinning at 24,000rpm right through the workpiece into the machine table.  Let that be a lesson and teach us to speak with care and great deliberation even if the language is merely G code.
After a quick refinish job on a table (which we won't show because refinishing is no fun at all), we built this framed, hand-painted crest and delivered it to the happy customer.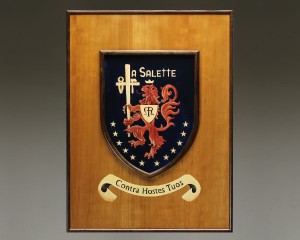 Looking back though, wasn't that crown supposed to be gold?  Pick up the crest, bring it back, apply genuine gold leaf, return to client.  Okay, so now we've got a happy customer who ended up with gold leaf instead of the gold paint originally planned.
And yes, that client was Notre Dame de La Salette Academy.
In July we started the summer long process of filling their new chapel with furnishings which takes us into the second half of the year.
All the best stuff is yet to come.  Follow the link to enjoy part 2.
Pews, altar, organ cabinetry and more!